---
Last page update:
---
Tel Aviv, ISRAEL, 1 June . 2001. 23.50 hrs.
A Arafat's authority terrorist suicide bomber killed 21 people in Tel Aviv. a sub Ashaf group called "Hezbollah...something..."(another undercover P.L.O. name)... claims responsibility for the coward crime.
The bomb exploded in front of a crowded disco late Friday 1 June (23.50)
At least 115 others were injured , 10 of them seriously, 22 moderately and 54 lightly, according to hospital sources.
The attack - the worst in Israel for at least five years - happened late in the evening outside a club, crowded with young people going out for the weekend.
Shortly before midnight on Friday, a Palestinian suicide bomber walked into the crowd of young people waiting to get into the Pascha nightclub and and detonated an explosive device packed with bullets, nails and metal pieces.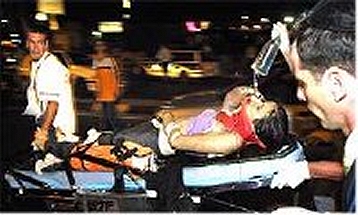 "We were waiting at the entrance to the discotheque and then we heard a huge explosion. After two or three seconds I saw people lying on the floor, some had no legs, no arms."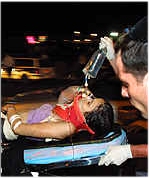 "I saw a young woman torn to pieces in front of my eyes."



"After two or three seconds I saw people lying on the floor, some had no legs, no arms."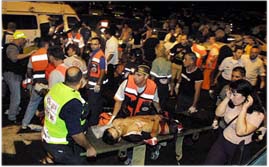 "I saw a ball of fire in the centre of the people and then heard an explosion. Something flew in the air and people were running everywhere."


"It was the most horrific sight I've ever seen"

more photos here:
http://www.dolfindisko.com/horror.html

---
Since the "second" intifada began in the autumn of 2000 the number of attacks on Israeli soil have increased.
The architerrorist ARAFAT ("A NOBEL PEACE WINNER")
IS THE MAIN LEADER OF THIS WORLD WIDE TERROR. EXACTLY LIKE: "BEN LADDEN", "CARLOS", and the long list of THE NAZIS CONTINUATORS.
HIS CYNICAL USE OF THE "DIPLOMACY UNIFORM"
PLAY UNDER HIS HANDS TO CAMUFLAGE THE BLOODY IDEOLOGY CALLED "PALESTINIAN INTIFADA"
ALL THESE TERRORISTS ISLAMICS FUNDAMENTALISTS ASHAF-SUB-GROUPS:"Hamas ","Islamic Jihad", "Popular Front for the Liberation of Palestine", "The Popular Army Front" , "The Battalions of Return", "Tansim", "Power 17 ".. etc..etc.. are ALL OF THEM IN COMMPLETE COORDINATION WITH THE ARCHYTERRORIST IAZAR ARAFAT AND HIS ASSASSINE STAFF OF KILLERS, HE USE THEM EVERY DAY, EVERY MOMENT.
EVERY ONE OF THOSE AVENTS ARE ABSOLUTELY UNDER HIS CONTROL AND ORDERS,
UNDER THE TOTAL CONTROL AND MANIPULATION OF THE PALESTINIAN ARAFAT'S AUTHORITY
HE USE THIS COWARD WEAPON AGAINST INNOCENT PEOPLE ALL OVER THE WORLD
AND THE WORLD CONTINUE ACCEPT HIM AND ALL HIS TERRORISTS STAFF AS A PEACE LEADERS.
---
A series of suicide bombings against Israelis have ignited fears in Israel of a new campaign - as threatened by Islamic militant groups.
In 1996, for example, Israel was paralysed by a series of suicide bombings that killed more than 50 people and hundreds wounded.
---
WHO ARE THE ISLAMIC SUICIDE BOMBERS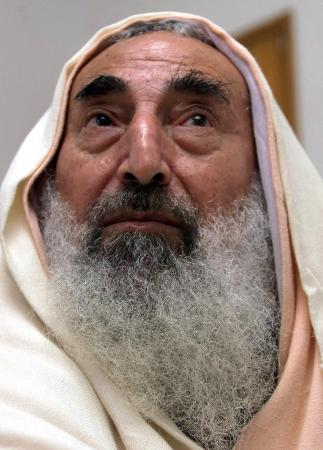 The suicide bombers are typically unmarried men in their late teens and 20s.
They act in the belief that they will go straight to paradise, where they will get thousand virgens girls and places of honour next to God.
Most of the bombers are affiliated to the Palestinian militant groups Hamas or Islamic Jihad, helped and support by several Arab countries like Siria, Iran, Irak, Afganistan, Pakistan, Lebanon and the Arafat's Palestinian authority.
Hamas has admitted it was behind a suicide attack that killed two Israeli teenagers at a bus stop on 28 March, and also an attack on a bus in Jerusalem on 27 March that injured 30 Israelis.
In an amateur video released by Hamas, the bomber of the first of these attacks read a statement vowing to kill Jews and become the next martyr.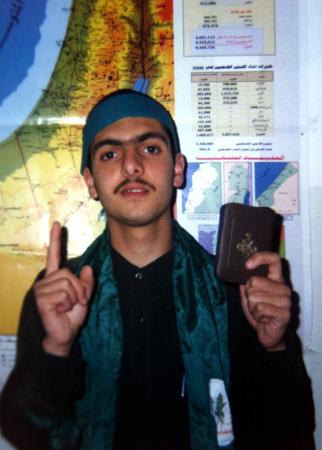 The Kfar Saba suicide bomber
"I will tear their bodies and their bones into pieces so they will taste death," said Hussein Mohammed Tawil. "We will do this in honour of the martyrs, in honour of the Prophet."
Hamas said the bomber was a university student in the West Bank city Ramallah. He appeared from the video to be in his early 20s, clean-cut and wearing a t-shirt.
The young man blew himself up next to a bus in the French Hill area of Jerusalem. He had worn explosives on his belt.
Such attacks are, according to analysts, planned meticulously, along the lines of a military operation.
In some cases, support teams transport the bomber by van or car to the location minutes before the detonation.
The Palestinian militant groups, which are Sunni Muslim, resemble the Lebanese Shia'a militant group Hezbollah in that they are acutely media-conscious and the timing and positioning of attacks are carefully considered to achieve the maximum public impact.
The explosives usually have a hand-pulled detonator rather than a button, because it is less likely to go off accidentally.
That suicide bombers take drugs before they go on their missions, but this would run contrary to the strict religious teachings they adhere to.
They are likely to be motivated by religious fervour.
According to Islamic tradition, he who gives his life for an Islamic cause will have his sins forgiven and a place reserved in paradise.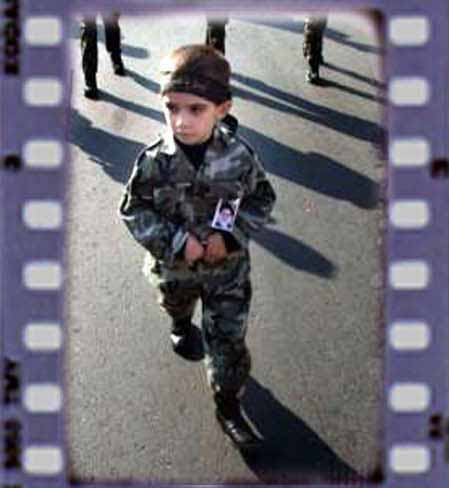 This is what the Palestinian toddlers learn in kindergarten. The nursery rhymes they are taught are about shedding Jewish blood, and their highest ambition in life is to become a suicide bomber. When you give your child a gun, if he survives, what kind of man will he become? Palestinians are sending their children to the front of the riot zone, and when they return wounded or even dead, they are celebrated as heroes.
(http://www.projectonesoul.com/israel2/israel2.htm)

For many years, suicide attacks on Israelis have been seen by Palestinians as just such acts of martyrdom.

Recruits are reassured by their organisation that their families will be looked after materially until they die, and there are charitable organisations that exist for this purpose they recieve supouse to recieve 1000 $ but 500 $ of them goes to the corrupts that sended the bomber.

Recruits are picked out from mosques, schools and religious institutions. They are likely to have shown particular dedication to the principles of Islam, and are singled out for deeper study.

Gradually, they get more involved in political issues, and are taught the rewards that will await them if they sacrifice their lives.

Eventually, many of them will volunteer for a suicide mission, hoping for greater glory.

They will spend less and less time with their families and devote themselves to religious study and spiritual preparation. They are sent out with just a day or two's notice on how and where to blow themselves up.

Faced with men who embrace their mission with such zeal, Israeli security forces will have to be extra vigilant to stop them.
---
Israel's history of bomb blasts from 1994 to 2001
1994
11 November: Islamic Jihad militant sets off bomb near Netzarim settlement in Gaza, killing 3 officers.
19 October: Hamas militant sets off bomb killing 23 on a Tel Aviv bus.
13 April: Hamas bomb kills 5 and injures 30 in Hadera.
6 April: Hamas car bomb in Afula kills 8 and wounds 44.
---
1995
21 August: Bomb on a Jerusalem bus kills 5 and wounds 69.
July 24: Unidentified suicide bomber kills 6 passengers and himself on a bus outside Tel Aviv.
9 April: Islamic Jihad suicide bomber attacks military convoy in Gaza, killing 7 soldiers and an American tourist.
22 January: Two Islamic Jihad militants blow themselves up amid a group of soldiers near Netanya, killing 21.
---
1996
4 March: Tel Aviv bomb kills 13.
3 March: Suicide bomb on a Jerusalem bus kills 19.
25 February:Palestinian terrorists suicide bombings in Jerusalem and Tel Aviv kill 26. Militant Hamas group claims responsibility.
---
1997
4 September: Explosion in west Jerusalem kills 8, including 3 bombers, and wounds more than 170.
30 July: Two Palestinian terrorists blow themselves up in the Mahane Yehuda market, killing themselves and 16 shoppers.
31 March:Palestinian Suicide bomber kills himself and 3 women at a Tel Aviv cafe.
---
1998
6 November: A palestinian terrorists car bomb at the Mahane Yehuda market kills two terrorists suicide bombers from Islamic Jihad and wounds 21.
---
2000
28 December: At least one palestinian terrorist bomb explodes on a bus near Tel Aviv, wounding 13 Israelis.
22 November: 2 Israelis killed and 55 wounded by a palestinian terrorists car bomb that explodes during the rush-hour in northern town of Hadera.
2 November: 2 Israelis killed by a powerful palestinian terrorists car bomb at central Jerusalem's Mahane Yehuda market, a frequent target of attacks. Islamic Jihad says it carried out the bombing.
---
2001
27 May: A series of explosions rock central Jerusalem during morning rush-hour. There are no reports of serious injuries.
26 May: A car bomb explodes outside the central Jerusalem police station in an area packed with bars and restaurants, although no-one is injured. The hard line Popular Front for the Liberation of Palestine says it carried out the attack.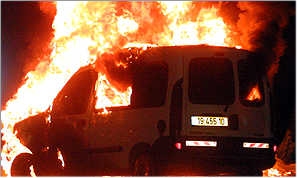 (Bombs in central Jerusalem in May 2001)
25 May: Two separate explosions kill at least 4 and injure more than 60 in the northern Israeli town of Hadera and in Nablus in the West Bank. Suicide bombers die in both blasts although the Palestinians prepared a car bomb.
18 May: At least 5 people are killed and more than 30 injured when a suicide bomber blows himself up in Netanya. The bomber is believed to be among the dead.
6 May: A bomb placed in a rubbish bin in a bus station in a Tel Aviv suburb slightly injures a woman.
29 April: A Palestinian is killed when a bomb explodes near a Jewish settlers' school bus near the West Bank town of Nablus.
22 April: Two people are killed and more than 20 injured in a bus stop bombing in the town of Kfar Saba north of Tel Aviv. One was believed to be the bomber. The Popular Army Front claimed responsibility.
14 April: Two pipe bombs go off within an hour of each other, one in Kfar Saba and the other near the border with the West Bank. One person is injured in the second attack.
28 March: Three people are killed and several critically injured in a bomb explosion on the border between Israel and the West Bank. The Islamic militant group, Hamas, admits carrying out the attack.
27 March: Thirty people are injured in two separate bomb attacks in Jerusalem. A bomber is killed in the explosion.

---
26.March: Shalhevet Paz, a 10 months old Israeli baby was killed by a Arafat's sniperin with telescopic rifle from a Abu Senna Palestinian window to a childrens kindergarden in Hebron.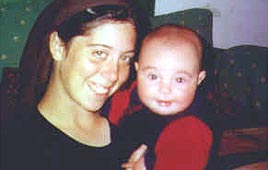 Shalhevet a few days before the coward Palestinian crime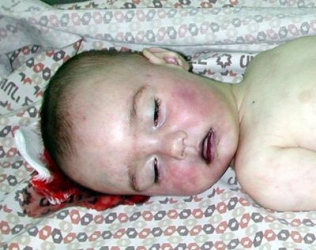 Shalhevet at 26 March 2001
---
4 March: A suicide bomber blows himself up in Netanya, killing 3 Israelis and injuring dozens more.
1 March: At least one person is killed and 9 injured in an explosion in northern Israel. A group calling itself The Battalions of Return says it is responsible.
8 February: Two car bomb explosions in the heart of the ultra-Orthodox area of west Jerusalem. No-one is killed.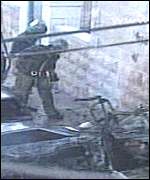 1 January: Car bomb explodes in west Jerusalem. One woman injured.
---
Preventing the Plague of Terrorism
Through this advertising campaign, we are promoting our determination to prevent acts of international terrorism worldwide and our willingness to pay handsomely, up to $5 million, for information that prevents such acts.
Rewards for Justice
P.O. Box 96781
Washington, D.C. 20090-6781, USA
Internet: mail@dssrewards.net
Voice: 1-800-437-6371
Web: http://www.dssrewards.net/index.htm
---

_____